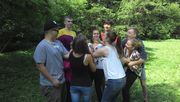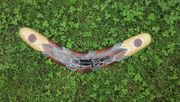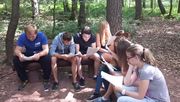 The ninth grade of a Realschule is about to finish the topic "Australia" in their English lesson. They have already learned a lot about the country, its history and of course its famous inhabitants, the Aborigines. Today they will have an extraordinary English lesson. The students will immerse themselves in the world of the traditional Aborigines and see them from a different point of view. Far away from civilization, deep in the forests of the Odenwald, they are about to have a day full of playing, talking, painting, eating, and of course, learning.
The project day itself started, after a short greeting and introduction, with a group puzzle. Theoretical input eased the way into the English language and students recalled known information. Subsequently the students were divided into three groups, with each group working at a different station at a time. The stations were called "Rituals and Religion", where students listened to a dream-time story and acted out a role play about a marital ceremony, "Culture and Art" where students built their own boomerang and painted it with traditional aboriginal art, and finally the "Sport and Games" station, where different aboriginal games were played. After the successful completion of all stations the class had the opportunity to taste some original aboriginal food. Towards the end of the day the students filled out a feedback sheet and completed a quiz to test their newly gained knowledge, before being dismissed for the rest of the day.
The students worked in small groups for most of the day. This setting helped particularly shy students to open up and feel less observed. The atmosphere of the nature surrounding them made the students more active and enthusiastic than a classroom would be able to. We specifically chose the forest as our location in order to make the setting more realistic. The choice of topics focused on several criteria. The main criteria was to cover as many specific interests of the students as possible. Furthermore, topics were supposed to vary in the applied learning methods.
The main goal of the day was to strengthen trans-cultural competence. Learning about other cultures dismisses prejudices and promotes open-mindedness. Another focus was to promote language competence. Reading and listening skills were to be enhanced and students would have plenty opportunities for communication in various situations from the beginning to the end of the day. Team spirit, respect and cooperativeness are examples of social skills trained throughout the project.
To conclude, this particular type of project-based learning was welcomed with the students' high motivation, who even requested another project day like this. This project day could be easily extended to several days or even a whole week. For future lessons in this field there remain many interesting possibilities and opportunities to be explored.
Franziska Charrier und Jessica Wey, Project Day "Aborigines", in: USE: Universität Studieren / Studieren Erforschen, 27.01.2015, URL: http://use.uni-frankfurt.de/pbl/aborigines/.
Alle Bilder und Materialien sind urheberrechtlich geschützt.